Build Dynamic Web-Based Solutions Using Superheroic JavaScript Framework

E-commerce Web Applications
With our AngularJS services, we help you create dynamic views for your ecommerce web apps.

CMS Tool Configuration
We adhere to standard coding guidelines for creating cross-browser compatible web portals and mobile apps.

AJAX Development
Enhance the functionality of your web app using AngularJS two-way data binding and REST-friendly framework.

Native App Development
We apply agile methodology to create interactive website UI and fast-loading native applications.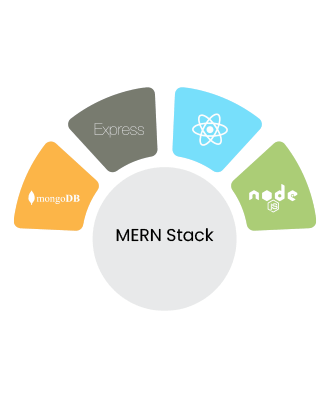 Request Free Consultation
The technology of MERN that you can surely back on
Over the past few years, the MERN Stack Framework has become quite famed thanks to its wonderful technology and the use of a single language on every level of the application. It is highly backed on by developers to formulate highly efficacious, dynamic, and fortified APIs and applications. What transpires out is output with so many thrilling features that can amaze anyone going through it.
The acronym MERN is formed by the combination of MongoDB, Express JS, React JS/Redux, and NodeJS. As per the words of many experts, the MERN stack is considered to be a highly rated technology that assists in building high-performance applications.
Why prefer MERN
When we talk about MERN, it continues to lead the race in terms of being the most efficacious technology for allowing you to construct 3-tier architecture. Here are some reasons to invest in it:
While the MERN stack uses four frameworks in a single framework, it doesn't mean at all that there is a requirement for additional resources to be hired. Consequently, it indicates the technology's cost-effectiveness that won't ever bother your pocket.
One of the beauties of investing in MERN technology is that it empowers you to relish the 3-tier architecture.
Another benefit of the MERN stack is that it is an open-source technology. This ensures that any hassles of proprietary licensing do not even come into the picture.
If you intend to learn about some features of MERN, it is easy to do so. This is because; it involves the use of a single language.
We furnish an eclectic range of MERN Stack Development Services
We develop cutting-edge enterprise application solutions that will cater to your development needs.
When it comes to customized application development, we utilize elite MERN approaches to fulfill your requirements in the best possible ways.
If securing fast, secure, dynamic, and best-suited web applications are on your mind, our MERN developers will brace you.
For clinging high-performance, feature-rich, secure, user-friendly, scalable custom content management systems (CMS), our developers are adept enough to create it for you.
Our authentic services are just not restricted to the above pointers, but we also assist you in creating high-quality eCommerce application development systems.
The benefits of choosing our reliable MERN Stack Development Services
For securing a highly scalable website or web application for your business.
Our developers blend some of the leading security features into the applications designed by them, ensuring minimization of data thefts-for instance.
To surge user's experience, it is imperative to get a website or app designed that can be managed on any device. Our skilled panel of experts will guarantee you this.
If you need work on priority, our huge team of maestros makes sure that it is delivered in time. You won't have to endure issues regarding project deliverables.

When it comes to choosing a provider to get your MERN Stack Development Services requirements fulfilled, it is best to plow your money on elite brands. In simpler words: selecting our team of developers will indeed prove to be your safest bet.
INITIATE A PROJECT DISCUSSION WITH US