Requirement Elicitation
We were approached by our international clients who wished to build their custom clothing websites that must include the trending feature of live customization preview of the suiting and shirting attributes selected by the customers. It was expected to also incorporate ecommerce solution for order booking and instant payment to ease the customers with a quick online solution that avoids the hassle of visiting offline location stores.
Key Challenges
The requirement was generated with a target business goal of exploring the competitive advantage of setting up an online custom tailoring tool into the website and pushing the business of these offline clothiers to new mount of success. Creating an augmented reality scenario for the customers where they can visualize their suiting preference immediately while changing the selected designs was not a piece of cake to put before and called for utmost attention to core fine details of each attribute. In fact, it is arduous to push such a great idea into visible real picture.
Build-Operate-Transfer Modeling
Performing live pattern selection for shirting suiting and jackets seems easy in view of customers. However, the scenario becomes more complex when it comes to develop such a custom tool that could augment the user experience in real-time while they are browsing many tailoring options to decide the final choice. In the interest of providing website customers with the best comfort of both the worlds, we pulled out an outstanding solution of our hat and took the belt of tailoring business entrepreneurs in a notch with a realistic web experience. Our team of market researchers and project managers took our creative designers and web development professionals under their wings to ensure that we achieve the success in the first attempt.
Custom Shirting
Attributes: Sleeves, Fit, collar style,Cuffs Style Collar Buttons, Chestpocket, Placket, bottom and Pleats.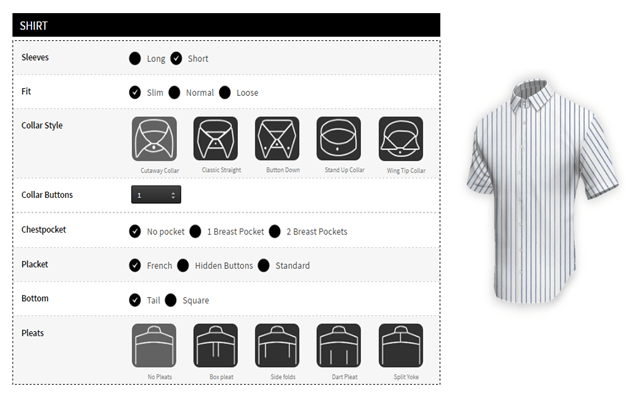 Short Sleeves
Long Sleeves
Custom Pant
Attributes: Fit, Side POckets, Pant Cuffs and Back Pockets.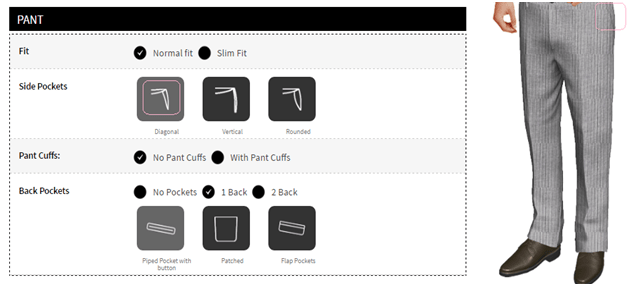 Pant Front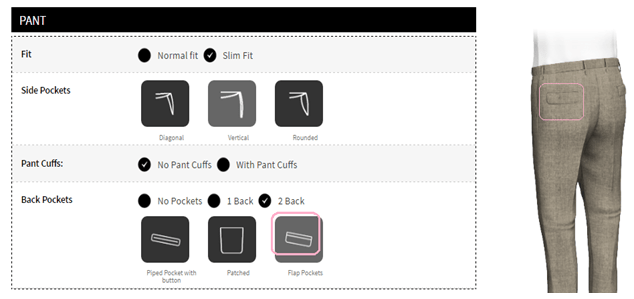 Pant Back
Custom Blazer
Attributes: Style, Fit, Jacket Lapels, Number of Buttons, Breast Pocket, Hip Pockets, Back Style, Sleeve Buttons and Button Holes.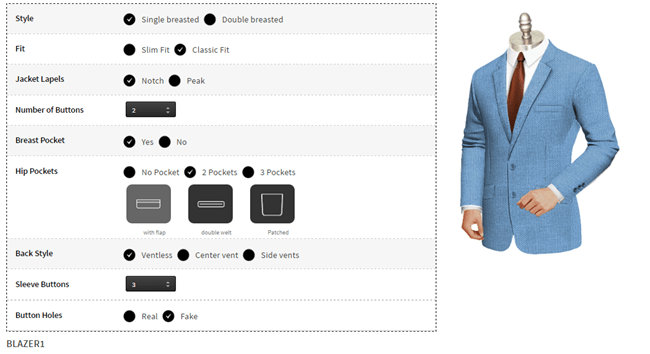 Blazer Front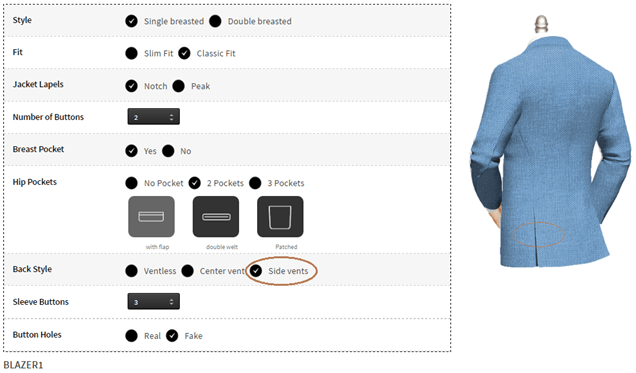 Blazer Back
Advantages of Bespoke Tailoring Platform:
Preserving the industry standards of web programming into our solution, we built a premiere web scripting tool to meet the expectation of our clients while incorporating other specified functionalities into their online store.
Opting for setting up an online customization tool into your clothing e-Commerce website extends its usability and helps in producing increased sales by engaging the customers to style their apparel in their own way' using the built-in customizer tool.
Without uploading the image for each customizable item, this customizer tool will immediately produce the generic view of each product with opted selection.
Different options available for clothing customization encompass the category of pants, blazers, overcoats, shirts, fabric color/material and matching accessories.
This platform renders made-to-measure apparel tailoring according to the selected fabric, color and design. Besides this, we have included ecommerce functionality to increase the probability of your customers' buying motivation.
By offering such a mesmerizing feature in clothing fashion store, we have endeavored to leverage a cost effective solution to the entrepreneurs who wish to facilitate their customers with own online marketplace for men's tailoring services in addition to their offline business.